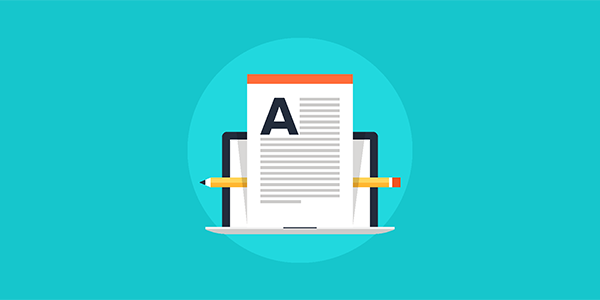 Writing headlines can be a daunting task for even the most skilled wordsmith. We're here to assure you that it doesn't have to be the most difficult part of the writing process. In fact, it can help boost your content and ensure that more people see and read your story.
In the digital age, headlines are even more critically important to get it right. Most consumers are skimming content while scrolling through search engine results, social media feeds, or in an email campaign. In order to sell your potential reader that your content is worth their time you'll need to communicate a few key points.
Here are some tips to keep in mind:
1. Start with a few working drafts while you write
Headlines take time to finesse before they are ready to go primetime, so don't sweat it if a brilliant one doesn't instantly materialize. To get started, jot down some ideas while you're writing your article. These could be a standout phrase or a single word from a quote. Read the story and recognize what words catch your eye and grab your attention. Once you're finished writing you can revisit this list and start crafting a few options.
2. Align the headline with your content
Put yourself in the mindset of your target audience. They are likely interested in content from Wharton because they are seeking valuable information. They also don't have a lot of time to click and wait for a webpage to load while there are many other competing outlets (their friends, news, entertainment, etc.) vying for their attention. You'll have to work a little harder to entice them in. If you were your target audience, what would draw you to this story and make you click through? What's the value they will experience on the other side of the link? What's this story really about? Start writing down the words that answer those questions.
3. Be Accurate and Honest
Once you've piqued the reader's interest, now it's time to deliver on that promise. If you overpromise in the headline you run the risk of losing trust with your audience and it will be increasingly harder to win them back with future outreach. Including numbers and statistics is a great way to cut through the noise and grab a reader's attention.
4. Be Direct
Remember: the reader is looking for information on a time crunch so the headline should be easy to read and understand within 1-2 seconds. Meet their need quickly. If there are words that can cause someone to pause or stumble remove them altogether or find a better way to make the point. Those will get in the way of helping someone find the answers. Speaking directly to the reader using words like "you" is another great way to pull them in.
Here's two examples:
Version 1: The History of the Passing of the Flag at Wharton Graduation
Version 2: Here's Why You'll See Alumni Pass the Flag at Graduation
Version 2 speaks directly to our target audience — attendees of Wharton graduation ceremonies — and makes them an active participant in an exciting tradition.
Version 1: Wharton MBA Clusters Create Community & Culture for Students
Version 2: How an MBA Cluster is Built
Version 1 isn't bad. It summarizes what Wharton wants the Cluster system to accomplish. However, it's not focused on the intended audience — prospective students — who need a primer on how the system works. It's more focused on Wharton's goals which aren't as interesting to someone on the outside looking in. We went with version 2 and continues to be one of most high traffic stories to date.
5. Don't Overdo It
You might be tempted to spice up a headline with something exciting and eye-catching. That's a valid impulse to have but it's important to strike a balance between being clear and being catchy. Avoid any cliches, puns, trite turns of phrase, and absolutely no clickbait. Audiences, search engines, and social media sites have all caught on to this trick. Content that implores hyperbole is dinged and pushed down lower on feeds and results for more authentic stories. Most importantly, it will lead readers disappointed and confused about the Wharton brand. 
Note: Many blogs and experts will tell you to go this route. It's different for us here at Wharton as a top business institution. We have a brand standard and legacy to maintain while allowing our communities personalities to shine through. When in doubt, let your subject show their enthusiasm for the topic. 
6. Avoid exclamation points
You're probably excited about the article you've just written and you want it to jump out and catch the attention of your target audience. Rightly so. You just wrote a fantastic piece of content. Peppering in an exclamation point here and there should be fine, right? Not so much. While you might be excited, we don't want to give the impression that we are screaming or wildly overjoyed. Instead, express the excitement through your words.
7. Optimize for Search and Social
What worked for print headlines doesn't translate to digital copy. Digital headlines must take advantage of the algorithms they exist within or they risk being lost in the sea of content. For search engines, try to include the keywords that your target audience will be entering on search engines to find your content. For social media, try to appeal to someone's emotions, wants, and needs. You should strive to land somewhere in the middle. See below for a guide from CoSchedule for emotional words.
8. Talk it Out
More often than not, you'll need to get out of your head and collaborate with someone to help smooth out a headline. Pull aside a colleague that can help you work through some of the options you've created. Maybe there is a combination of a few of your drafts that we bring the headline home that you wouldn't have seen. Once you say them out loud a few times and the right reading will click.
Finally, headlines are important because they are an invitation to our audience. When we follow through on the promise the headline makes and provide the reader with the answers they are looking for we achieve the ultimate marketing dream — trust.
Establishing trust with your reader will allow you to become a valuable and ongoing source of information and your ready will be more likely to take action, share your content, attend your event, apply for your program, and return to your website.
Quick Cheat Sheet
Some words to get the gears turning.
Easy / Essential / New / Powerful / Proven / Recommended / Required / Savvy / Successful / Surprising / Useful / Valuable /
Step-by-Step Guide / Insider's Guide / [insert topic] 101 / How I … / Why I … / Meet [insert name] / Inside [insert topic]
Best / Always / Fastest / Easiest / Most / Greatest / Largest / Strongest / Biggest / Ever
Unlock / Discover / Explore / Ignite / Deepen / Reframe / Uncovered
Areas / Components / Concepts / Examples / Facts / Forms / Ideas / Insights / Lessons / Principles / Perspectives / Questions / Reasons / Resources / Rules / Steps / Stages / Secrets / Strategies / Skills / Takeaways / Tactics / Tips / Techniques / Templates / Tools / Types / Do's & Don'ts / Q&A
Online Resources
Have questions about this post? Get in touch with Mike Kaiser kaisermi@wharton.upenn.edu.
Still need help? Submit a ticket