Google Analytics data is available for each production site using the Wharton CMS. There are two primary methods to access analytics data, via the Analytics Dashboard and on the Page/Post Edit screen.
Analytics Dashboard
Log into your Wharton CMS site and locate the Analytics menu item on the left. The page will show you a variety of data collected for your site. General Statistics includes visitors, sessions, page views, and other data. The dashboard will also include information on the top pages by page view, geographic data, browser stats and search keywords.
The date selector in the upper right hand corner of the can be used to filter all dashboard statistics on a particular date range.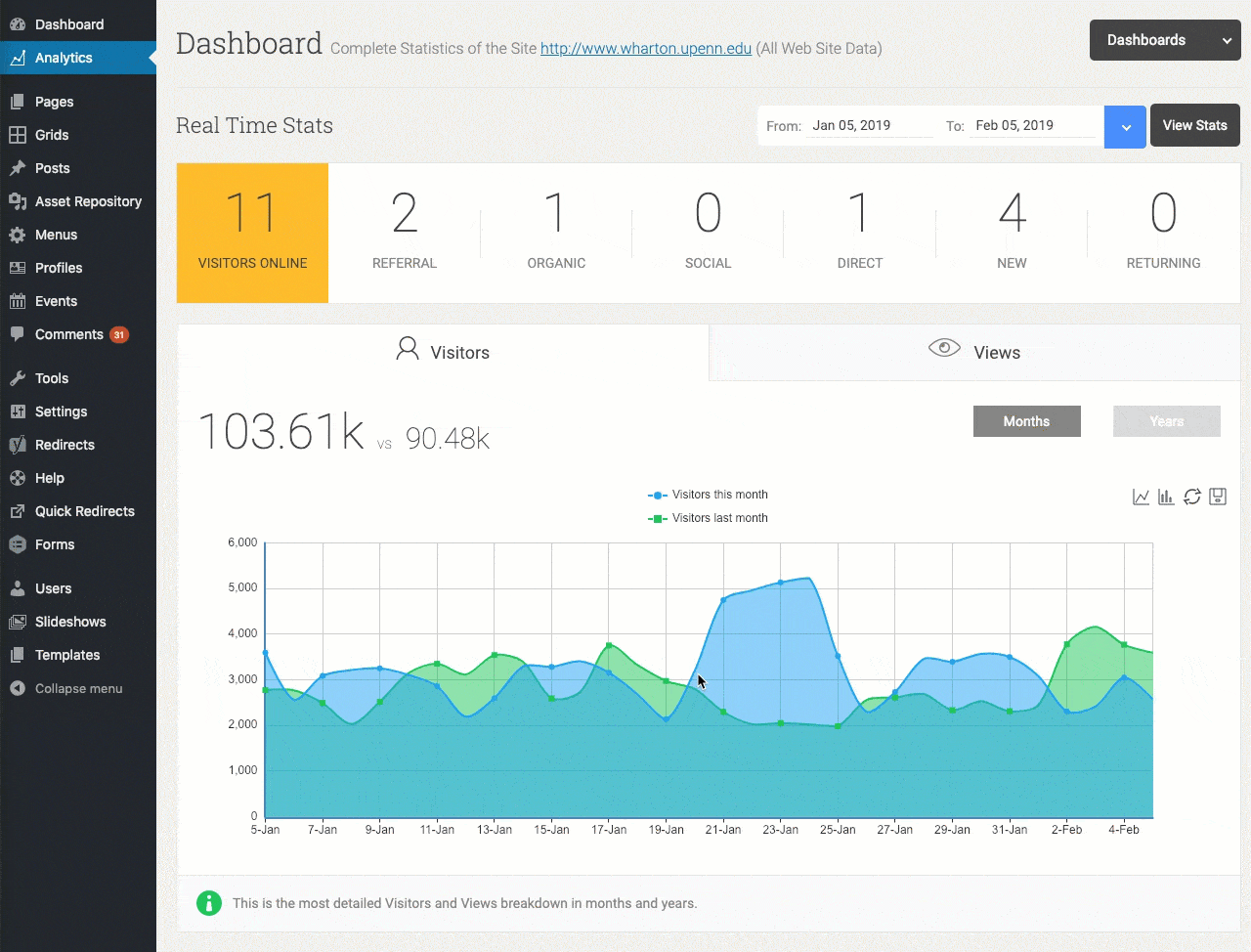 Exporting Analytics Data
A range of data is available for download through the Analytics Dashboard. When on the dashboard page, the you can download your site's top performing pages as well as geographic and browser data by clicking the CSV icon in the upper right hand corner. The exported data will reflect analytics for the date range selected at the top of the dashboard.


Analytics for Pages and Posts
In your page and post edit screen, scroll below the Page Builder section and you will find a meta box containing analytics data for that particular page is present. By default the date range will be set to show all data for the page since it was published, and the stats for the page can be similarly modified to reflect a specified date range.
Glossary of Common GA Terms/Metrics
Sessions -Total number of Sessions within the date range. A session is the period time a user is actively engaged with your website. app. etc.
Visitors – Users that have had at least one session within the selected date range. Includes both new and returning users.
Page Views – The total number of pages viewed. Repeated views of a single page are counted.
Bounce Rate – The percentage of single-page visits (i.e. visits in which the person left your site from the entrance page without interacting with the page ).
Referral – Traffic that arrives at your site by clicking on a link from another third-party website.
Entrance – The first page viewed during a brand new session on your site.
Exit – The last page viewed prior to a user ending a session and leaving your site.
Still need help? Submit a ticket