Overview
Events HQ is a custom designed Salesforce application, created by the Wharton Marketing & Communications team.  This guide will provide the tools needed for a basic overview of how to navigate and use Events HQ  to manage and publicize your department events. The Events HQ platform streamlines all digital aspects of event planning and management throughout the lifecycle of your event. This includes:
Event Website
Registration Management
Calendar Listings
Integrated Project Management tools
Events HQ How-To Articles
Events HQ Login and Dashboard Overview
See login instructions and video below.
Displaying events on your Wharton CMS (WordPress) site
Confirmation Message
Confirmation Emails

Standard Salesforce Confirmation
Customizable Campaign Monitor Confirmation

Setting up Campaign Monitor Automation
Managing Registration/Event Management
Coming soon: Additional Event Resources

Forms
Media Release
Loan Rentals
Project timeline
Help Center
Help Center – your one stop resource powered by Marketing & Communications
Log In! Welcome to Events HQ
Step 1: Navigate to  http://wharton.my.salesforce.com/ (Feel free to bookmark and save this url for faster access).
Step 2: Input your Pennkey and Password. Once you've successfully logged in, you are redirected into the Marketing Toolkit.
Step 3:  Select "Events HQ" from the app launcher (the nine dots in the top-left corner)
You will be taken to the Events HQ Home. From here you can:
Create an Event
Access the Event Planning Toolkit
View your Upcoming Events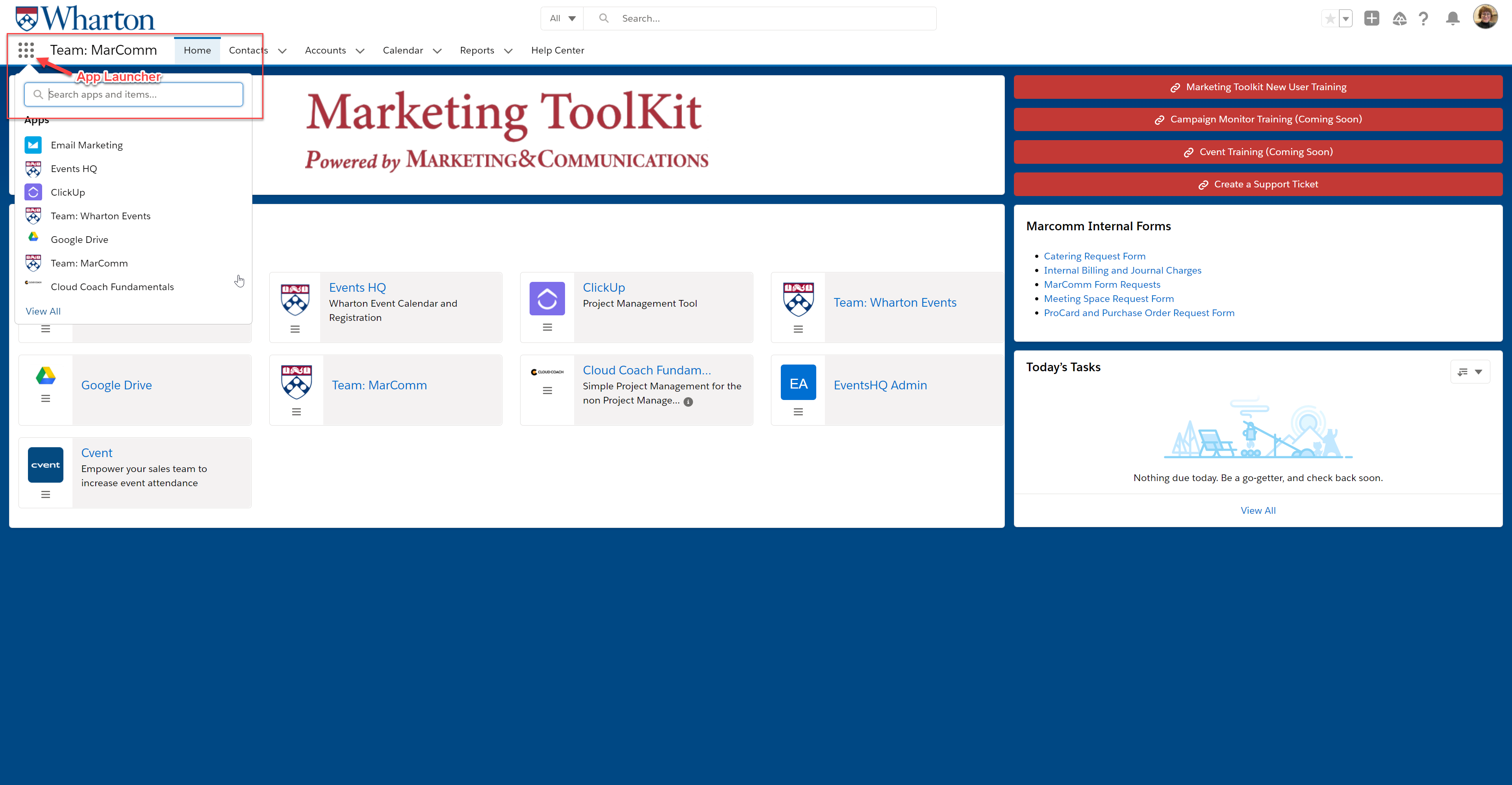 Events HQ - Dashboard Overview
Still need help? Submit a ticket