There are key differences between pages and posts. Knowing these differences will help you to know which to choice and how they will appear on your site.
Pages

Pages are static and are not listed by date. Pages do not use tags or categories. An About page is the classic example. Pages will make up the majority of your site, unless otherwise specified.
Posts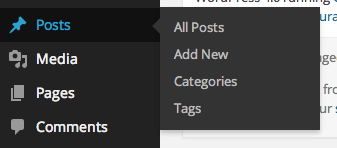 Posts are entries listed in reverse chronological order on the blog home page or in category pages that maybe setup in your site. Post are often used for news, updates, or articles.
How many can I have?
There is no limit on the number of posts or pages you can have.
How do I add them to the menu? 
Pages and Posts can be added to the Menu, by going to the Menus > Choosing your Menu > then check off the pages or post you'll like to add. Posts will rarely be added this way. Posts will automatically appear in your blog role and categories you've selected for your post.
Still need help? Submit a ticket