Welcome to the new Wharton Faculty Platform. The following guide will help you get started with the new system. If would like to report a bug, submit a feature request or schedule one-on-one training, please submit a ticket to Marketing Technology Support.
The following information is tailored for Wharton Staff with Editor Access to the Wharton Faculty Platform. If you are a faculty, student or staff member looking to simply edit your profile, please see our Getting Started guide.
In This Article
Additional Guidance
Viewing a Profile
Faculty, student, and staff profiles are distributed throughout the ten department sites. Profiles page URLs follow this pattern:
https://[department].wharton.upenn.edu/profile/[pennkey]
Logging In to Edit
Editors have two options for logging into the Wharton Faculty Platform system. To browse and edit profiles in from your department's site, either click the copyright (©) symbol in the footer or browse to https://[department].wharton.upenn.edu/cms-login and use the PennKey Login option. Once you log in, you will see various Pencil icons on your site when viewing individual profiles and/or publication listing pages. Click the Pencil to edit the profile or publication. Note: If you are not actively logged into the faculty.wharton.upenn.edu website you may need to click the PennKey Login button again.
To log in directly to the Wharton Faculty Platform to edit profiles and publications,  visit https://faculty.wharton.upenn.edu/cms-login and use the PennKey Login option.
Adding a Profile
To add a profile, select the Add Profile link in the left hand menu. You will then select the type of profile you would like to create, enter the person's PennKey and select continue. Once the PennKey is validated, you will be asked to confirm the details for the profile you are about to create. Select Create Profile and you will then be redirected to the newly created profile.
Note: A user must have a valid PennKey for a profile to be created. To create a temporary profile for a user who does not yet have a PennKey, please see our article on Temporary Profiles.
Activating/Deactivating a Profile
For a profile to be considered active, at least one department must be assigned to the profile. To activate a new profile, simply add a department and publish (or update) the page. Similarly, a profile can be removed from a particular department by clicking the large X in the department row.
To deactivate a profile entirely, delete all the assigned departments.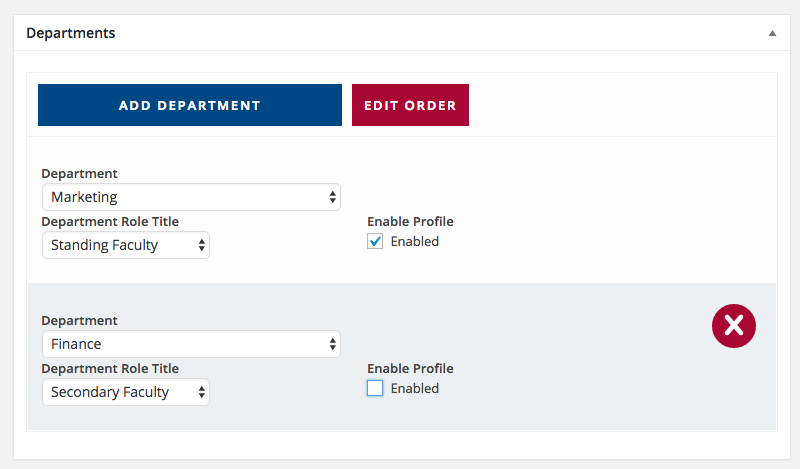 Enabling/Disabling a Profile
Profiles can be enabled or disabled on a departmental basis. If a profile is disabled for a particular department, the user will appear in the listings pages on that particular site, however, the actual profile page will be hidden. Use the checkbox in the department sections to enable or disable the visibility of the profile page.
Still need help? Submit a ticket