Drilling Down Into Report Elements For Expanded Data Analysis
When you hover your cursor over an interactive element within a report, you may notice that some elements have an up & down toggle arrow appear above. This indicates that you are able to drill down into your data further than what meets the eye or change the date format of time series charts.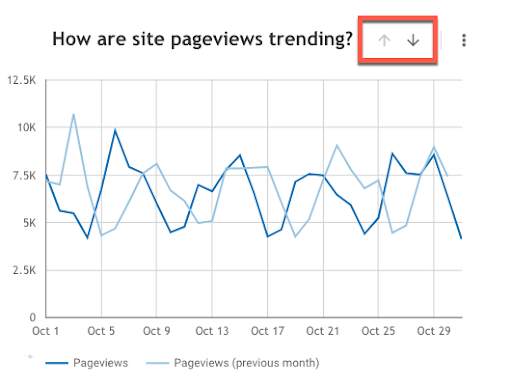 Time Series Charts
By default, time series charts are set to display data points for each individual day within the report level date range. By using the toggle arrows, you can change the date format to be displayed as monthly and as well as yearly, if you have a date range long enough.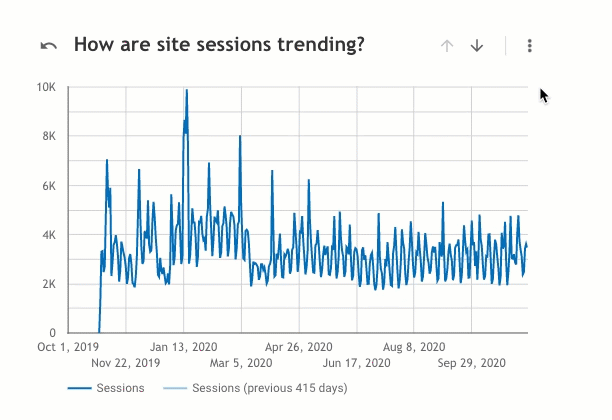 Data Tables, Bar Graphs, Pie Charts & More
There are many different chart types available within the Wharton Dashboards. If you are viewing a data table, bar graph, pie chart or other interactive widget that has a drill-down toggle appear upon hover, you may either use the toggle arrows to drill down the data at a chart level or click on an individual dimension within the element to highlight only that specific value.
Example: Drilling down on an internal referrals table.
Let's say that you are a Web Analyst working on the MBA team and you wanted to take a look at the traffic being sent to https://mba.wharton.upenn.edu from other Wharton owned web properties. 
Once you navigate to the Internal Referrals table found in the Web Overview report, you will find yourself looking at all of the Wharton subdomains that are sending traffic to your site. This is great information, but you would still like to know more. 
You notice that there are nearly 12,000 internal referrals being sent to the MBA site from www.wharton.upenn.edu. 
Click the row of the value you are interested in focusing on.

Once you have clicked to highlight your row, right click and select "drill down."
You are now looking at all of the individual pages on www.wharton.upenn.edu that are sending traffic to the MBA site. Once again, you can drill down even further using the steps above to see which pages on your site users are landing on from a specific page on the www.wharton.upenn.edu. 
In this example, we are focusing on where users are landing on the MBA from www.wharton.upenn.edu/about-wharton.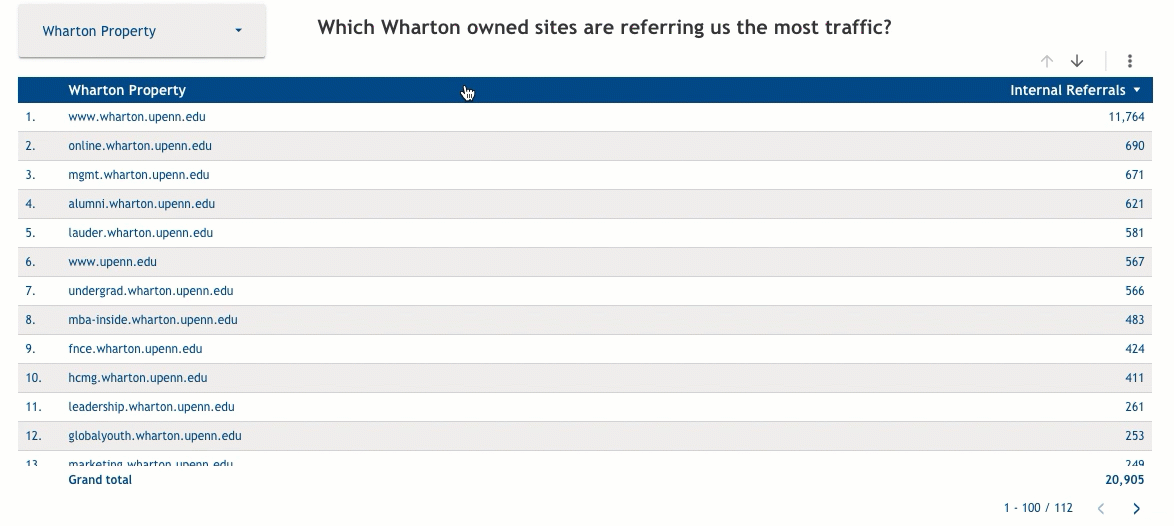 To reset the chart, simply click the curved arrow toggle found at the top left of any chart that has the interactive drill-down option.
Example: Drilling down on traffic by geo location.
When viewing the world view traffic chart, you are able to drill down your data all the way to a city level.
In this example, we are selecting the United States as our point of focus and are then right clicking to present the drill-down option. Once we do this, we are now viewing traffic at a State level. By drilling-down once more, we are able to get even more granular and see exactly where traffic to our site is coming from, city by city. This is highly useful information when planning new paid media campaigns or in-person events and allows you to measure where you already have a good web presence or identify where you need to build an audience.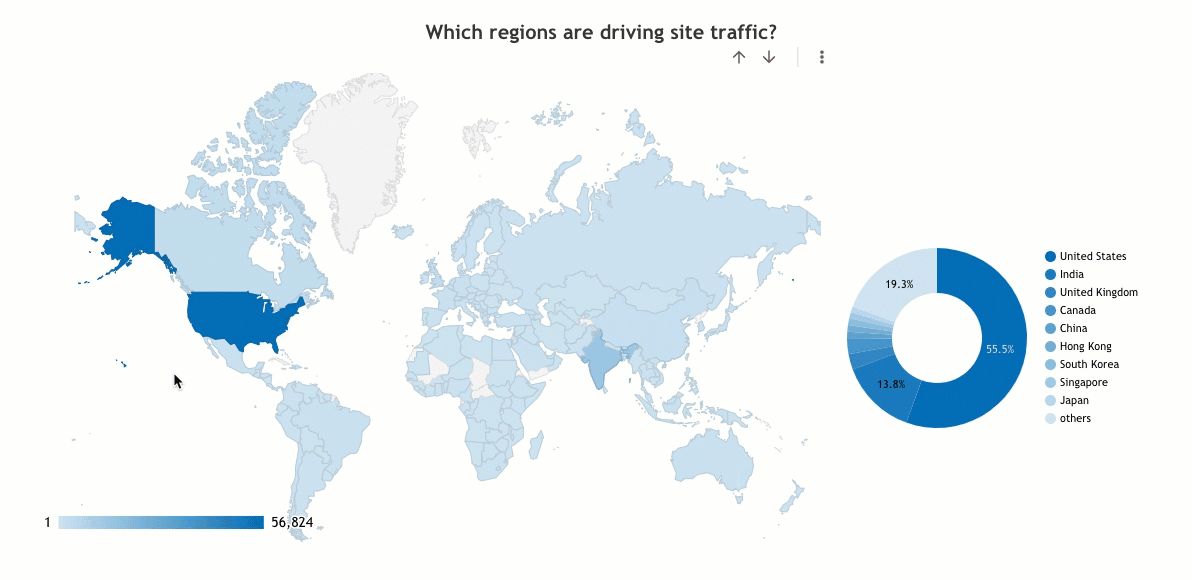 Still need help? Submit a ticket