Welcome to the new Wharton Speaker Database. The following guide outlines how users will submit requests in the new system. If you would like to report a bug or schedule one-on-one training, please submit a ticket to Marketing Technology Support.
In This Article
 Introduction to the Speaker Database
About the Speaker Database System
The speaker approval management system provides a way for the School to know who has been contacted and/or accepted regarding a speaking opportunity. It provides a way for you to know if the School has prior experience or a relationship with the speaker, and prevents the Wharton School from asking your speaker to address another similar or competing event.
The Wharton School Speaker Policy
Each speaker that a group, club, department, or individual wishes to invite to a Wharton event, whether on campus or off-site, must be approved by The Wharton Dean's Office (and in certain cases by the University) before any invitation is extended. Each speaker request must be submitted using the school-wide Speaker Request Management System, found on this page.
Requests are typically processed within three (3) business days. Speakers that require additional review may take up to two (2) weeks to receive final approval.
Failure to abide by this policy may result in loss of Wharton and University resources. Questions or updates regarding your speaker submission should be directed to your appropriate Student Life Office.
Wharton Speaker Database – Submitter Approval and Invitation Process

Creating a Speaker Request
Navigating to the Database
In order to create an event and request speakers, navigate to https://apps.wharton.upenn.edu/speaker/and log in with your PennKey.


Start a New Request
Create an Event
In the top navigation bar, Select "Create Request"
Enter your event specific information as requested on the form
Search for your organization or student club, and then select the "Create Event" button to move to the next page to begin adding speakers to the request
Create Request Page View

Add Additional Event Contacts
Add any additional event planners or contacts who should stay informed regarding your event request status.
Adding Additional Event Contacts

Request Speakers
Search for your speakers in the Speaker Request database search box.

Speaker is in the database: If the speaker was previously entered into the database, their name will appear in the drop down. Select the speaker.
Speaker not in database: If the speaker is not in the database, a drop down menu will appear, saying "No Results. Try again or click here to add a new speaker" Click the drop down menu to begin adding a new speaker
Multiple speakers on a request: Uploading multiple speakers at once? Click Import, and use the Excel Template to upload multiple speakers to a request. Do not add or remove columns from the template — if your information is not available or relevant, leave the columns blank.
Follow the instructions to either accept the correct speakers from the database or add new speakers if there are not currently in the system
*If the speaker's name and grad year is correct, you should select the existing speaker. If the title is outdated, please either add a note in Event Comments with the updated speaker titles or send your import/speaker list to whartonevents@wharton.upenn.edu to have the system updated to reflect position changes. 

Hit "Create Request"
Searching for existing speakers in the Speaker Request database

Adding a new speaker to the database
If your speaker is not already in the database, you will need to add them to the system. Select the "No Results. Try again or click here to add a new speaker" option in the drop down. On the following page, enter your speaker's full details. The system will check again that the speaker is not a duplicate. Once confirmed, add the speaker to the database.
Speaker Not in Database/Creating a New Speaker Profile


Comments and Communications
About Comments
When an event is submitted, you can submit comments, questions or additional information to the administrative team who processes and approves your speaker requests. There are two main types of comments: general comments [Event Comments] and speaker –specific comments [Request Comments]. You can add or update comments at any point in the Speaker Request process.
Database administration officials and associated School approvers may also add comments to the Event Comments and Request Comments fields. All comments entered will trigger notifications via email though responses must be entered in the comment field on the database.
Event Comments
Event Comments are general event comments regarding your event. These should be relevant to everyone associated with an event if you have multiple speakers associated with a request (i.e. event details, timelines, updates).
Navigate to the "My Requests" tab
Search and click the event that you wish to add comments
View and enter comments under Add Event Comment, then select the Add Note button to submit the comment and trigger notifications.
Event Comments are visible to all event contacts, database administration and any associated School approvers for any of the speakers on the request

An email notification on a new event contact will be sent to the Event Contacts and Database Administration.
Event Comments Page View

Request Comments
Request Comments are speaker-specific comments or questions that are directly communicated with Referral Managers regarding a speaker. You can get to the Request Comment page through My Request, or by clicking on the Referral Manager button within the event if a speaker has an assigned manager.
Not sure if your speaker has a Referral Manager? It's easy to tell! Click into the Event from My Requests. If a speaker has an additional Referral Manager, a Referral Manager button will appear next to the speaker's name.  You can click this button to go directly to the Request Comments page.
Referral Manager Button – Navigating to Request Comments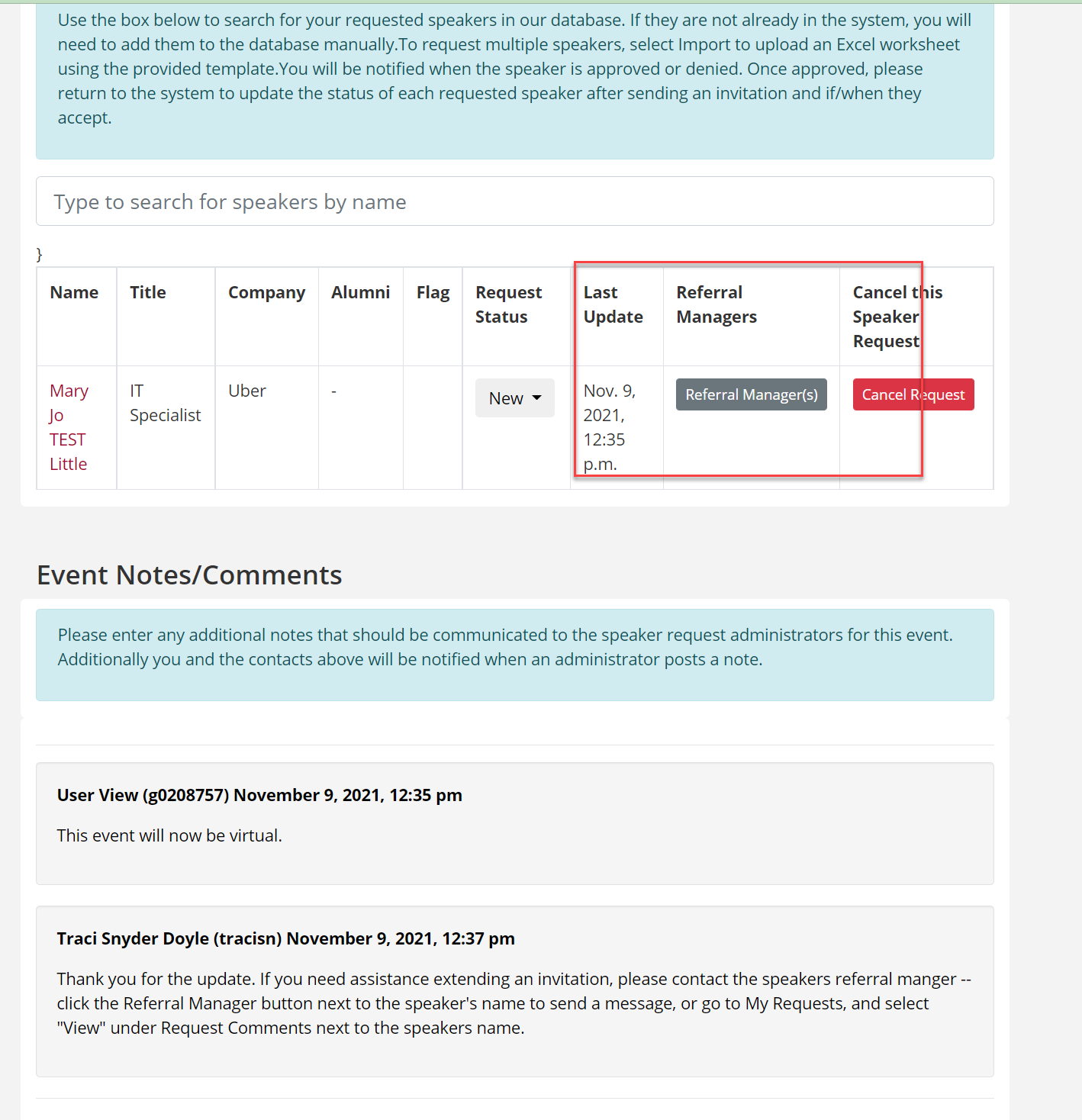 You may also go directly to the Request Comments page from your My Requests tab.
Navigate to the "My Requests" tab
Search for the Speaker
Select "View" under Request Comments column associated with your speaker
View and enter information under Request Comment.
Request Comments are visible to all database administration, specific approvers or Referral Managers for that speaker, and the event submitter

These comments are specific to a speaker being requested for an event. This is where you can follow up with the Dean's office on why speaker was declined, or share invitations with the speakers University Relationship Manager [known as Referral Managers in the database]
Referral Managers may have requests for specific details or information regarding the speakers proposed participation — the Request Comment page is how they will communicate these details.
Navigating to Request Comments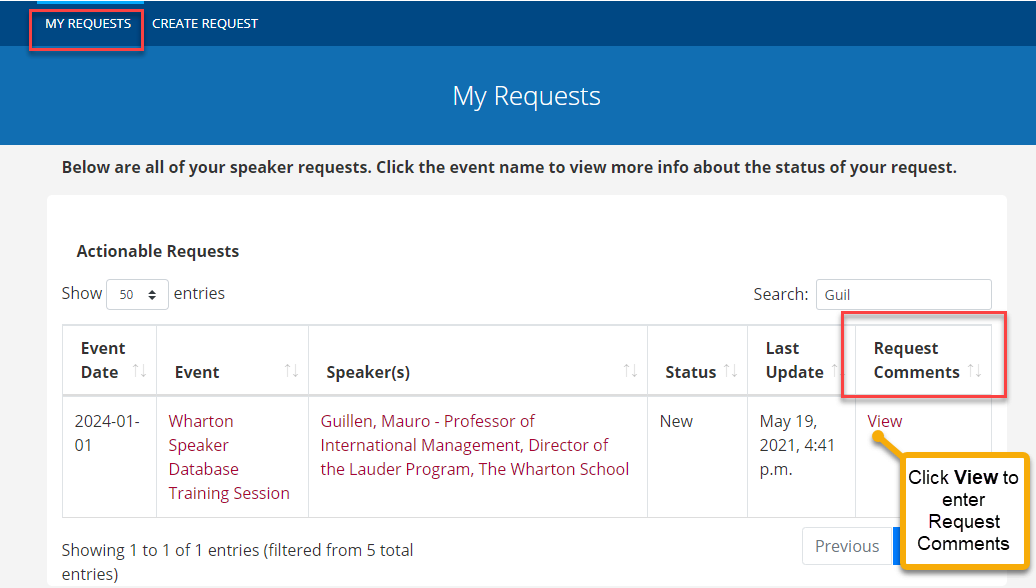 Request Comments Page View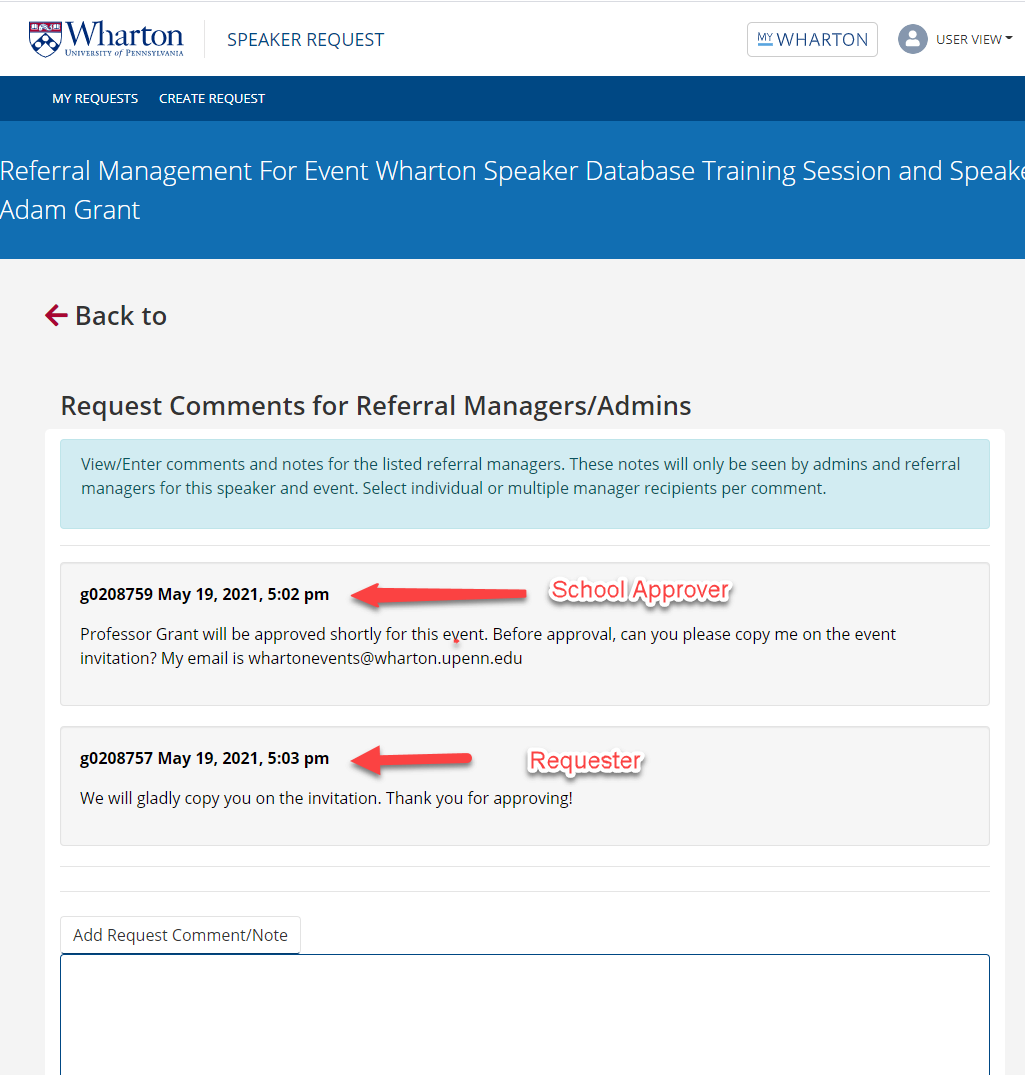 Approval Process
How a speaker is approved or denied
Each speaker request is reviewed by the Wharton Speaker Database team. Most requests are quickly approved by the speaker database team.
Some speakers require additional areas of approval. This includes:
Alumni with dedicated University Relationship Managers – Referral Managers approve
Government Officials of Dignitaries – Security and Penn Administration approves
Wharton Faculty – Wharton Dean's Office approves
Wharton Staff – Wharton Human Resources office approves
If your request requires additional approval, the status will be listed as PENDING
Viewing Request Status
Pending Request with an Referral Manger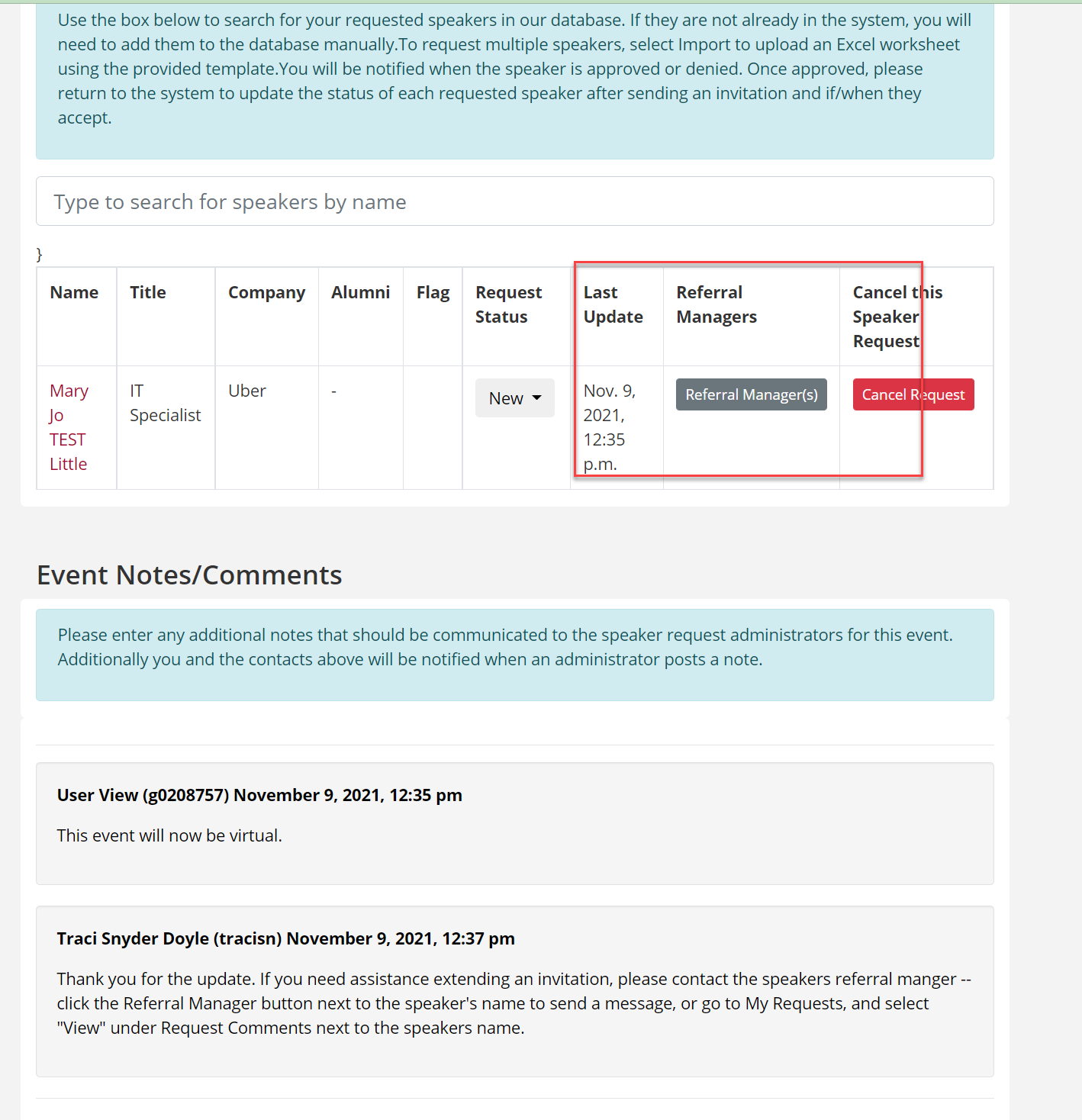 Pending Request – No Referral Manager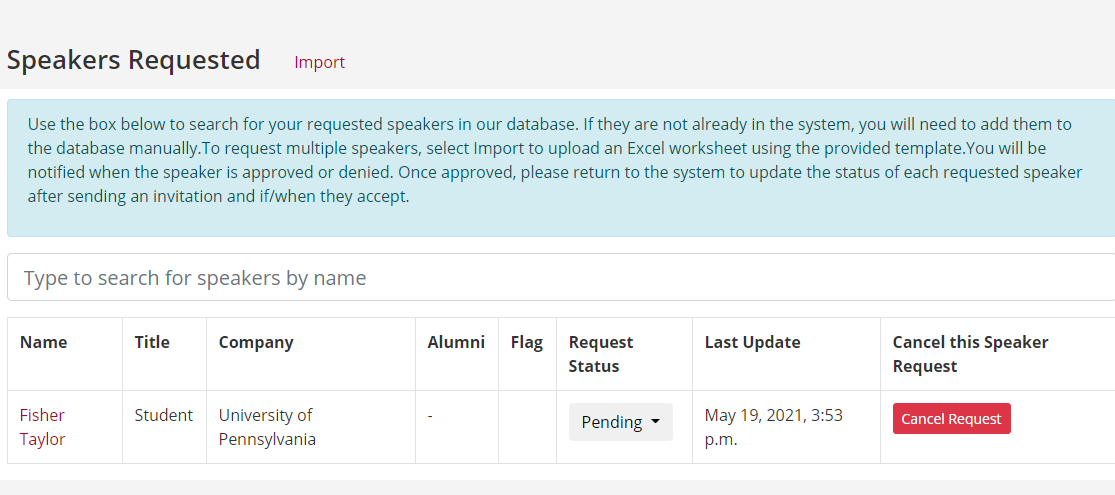 Completing a Request and Status Updates
After a speaker is approved or denied by the appropriate University representative, the submitter and any additional event contacts will receive an email notification. The Request Status will be updated from Pending to Approved or Denied in the database.
If your speaker is denied, you will receive a denied notification. No further action is required.
If you speaker is approved, you will receive an approved notification. After approval, the following steps needs to be completed to close out the request. You will continue to receive notifications for each speaker request until it is completed fully in the system.
Speaker Status Updates
Invitation
Request Status – Invitation: Update the Request Status from Approved to Invited after you send an invitation to a speaker

Need help sending an invitation or need to keep the University Relationship Manager involved in the request? Go to My Requests, and search for your speaker. Click "View" under Request Comments to communicate with the speaker's approvers and Database administration
Response
Request Status – Response to Invitation: After an invitation is sent, return to the Request Status to update how a speaker responds to the invitation. Options include

Confirmed – Speaker agreed to attend the event
Declined – Speaker declined or ignored the invitation
Bulk Request Status Updates
You can bulk update your speaker request status! Control + Click the speaker names on you request, and select Mark all Cancelled, Invited, Confirmed, Declined
Updating Request Status for a speaker

Notifications
A monthly digest will be sent to all event contacts with outstanding request status updates until a speaker is marked as completed in the process. Completion means:
Request approved, and marked as invitation confirmed or declined
Request Denied
Request Canceled
Cancel a Request
If you decided not to extend an invitation to a requested speaker, simply select Cancel Request to close out the request and discontinue notifications.
Still need help? Submit a ticket