Wharton's Facebook page surpassed 100,000 fans in 2016, a major milestone and important indicator of growth. The page's following increased 22%, more than twice the U.S. school average, while outpacing all global education pages in average posts per month and relative interactions per post (see graphs below). Here's a look back at some of our top performing posts of the year.
On February 5th, just days before Super Bowl 50, we promoted a blog post about Cade Massey's Business Radio show, "Moneyball," where he discussed analytics in the NFL. Using only a modest budget, this post became the top performer on our page for 2016 and had the highest engagement rate among any post by our business school competitors! Analytics rule.
While Facebook loves it when we put money behind our posts, sometimes it pays to let love rule. On October 27th, we shared a user-generated Instagram post on our page featuring MBA students who met and got engaged right here on campus! As you can see, our followers shared the love all over the internet, making this the most widely viewed photo post of the year. Congratulations!
Speaking of cross-channel promotion, in 2016 we leveraged the Dean's new "Influencer" status on LinkedIn to highlight the School's growing digital brand, Wharton Online. On March 8th, Geoff's blog post about MOOCs and Wharton's expanding educational footprint drove over 1,700 interactions, making this one of Geoff's most viewed posts to that point.

Our goal for 2017 is to sustain this level of growth and engagement through organic content as well as targeted ads that reach new audiences. However, we can't do that without great content curated from around the School. Please contact the Social Media Team via email or in the "stories" Slack channel and keep us in the loop on the new stories you're creating.
Number of Page Posts with Post Types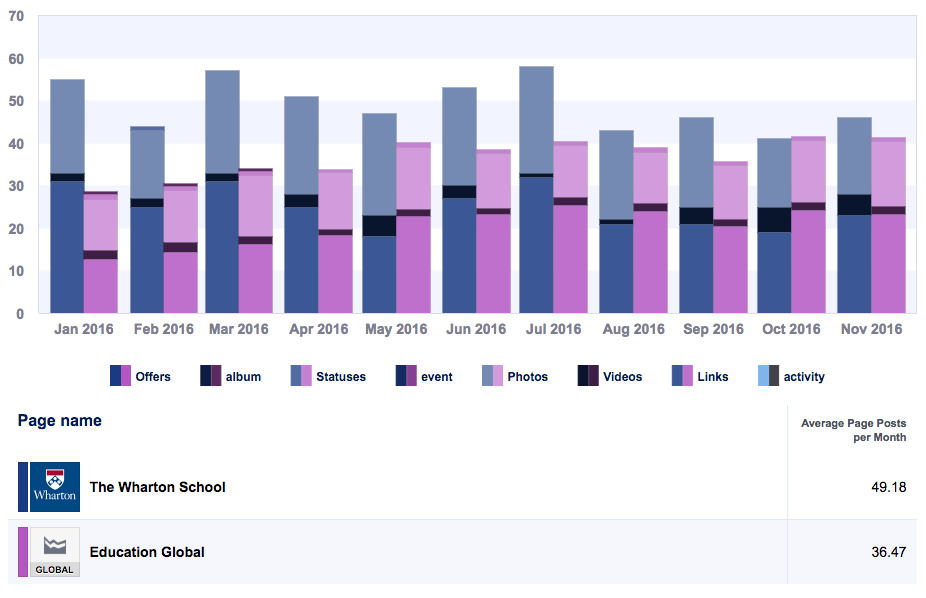 Number of Interactions per 1000 Fans