MarComm Web Services Update
December 2020
Happy Holidays from MarComm Web Services
As we approach the end of the semester and year, we'd like to wish you and your family a happy and healthy holiday season. We've got some exciting new features rolling out in the year and, as always, we are here to support you and your teams.  Please continue to use the Wharton CMS technology support request form for any of your website questions or issues.
The Breadcrumbs are Coming!
We are constantly evaluating the Wharton CMS for opportunities to improve usability, accessibility and overall functionality. In the coming weeks we will be re-introducing breadcrumbs as a standard feature in the Wharton CMS. Breadcrumbs have been shown to enhance user experience, lower website bounce rate and improve both SEO and search appearance in Google.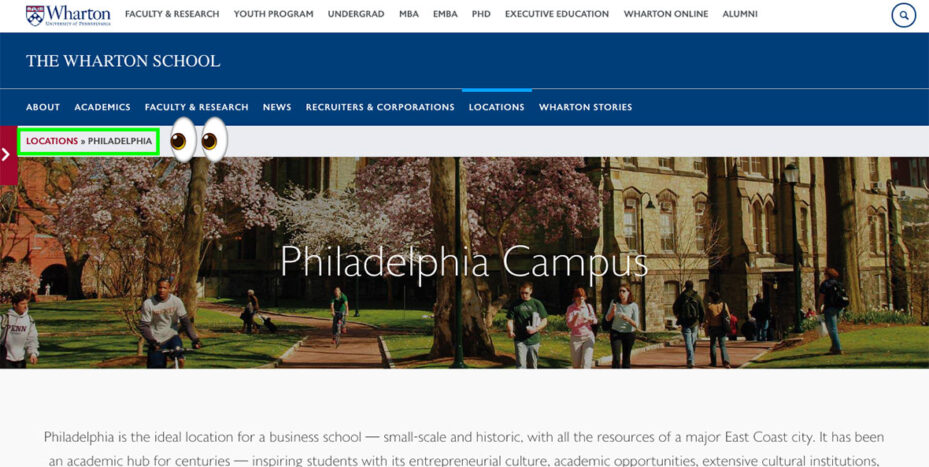 No action is needed to enable breadcrumbs on your Wharton CMS site, we will activate breadcrumbs across the CMS in early-January 2021. If you have any questions or concerns please open a support ticket.
Introducing: Events HQ
Events HQ is a custom designed Salesforce application, created by the Wharton Marketing & Communications team. The Events HQ platform streamlines all digital aspects of event planning and management throughout the lifecycle of your event. This includes:
Event Website
Registration Management
Calendar Listings
Integrated Project Management tools
We have already begun rolling out Events HQ to select Wharton CMS websites and will continue with the transition to this new platform in January 2021. If you are currently using the Events Calendar plugin on your website, be on the lookout for future communications on next steps to upgrade your business unit to Events HQ. For more information, please feel free to view our Events HQ FAQ sheet and visit the Help Center for a guide on getting started with Events HQ.